Saturday, December 25, 2010
Friday, December 24, 2010
Wednesday, December 22, 2010
Mr. P and I have given out some of our Christmas gifts already so you're getting an early present reveal...
Remember this post? When I was so excited to get wool roving? Well, here is what became of it:
It's felted soap! If you'd like to try it, follow this tutorial from Miranda

(yes, I realize that I get all of my ideas from her).

So easy and so quick.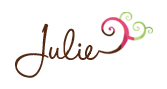 Posted by

Julie
at 8:00 AM
1 comments
Tuesday, December 21, 2010
Monday, December 20, 2010
Friday, December 10, 2010
Thursday, December 9, 2010
Wednesday, December 8, 2010
Tuesday, December 7, 2010
Monday, December 6, 2010
Sunday, December 5, 2010
Thursday, December 2, 2010
Wednesday, December 1, 2010